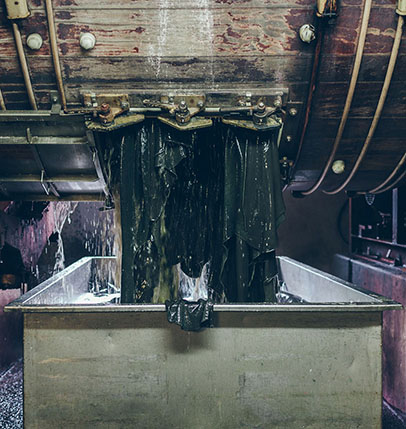 The thrilling life of a full-grain hide, for which every step is essential.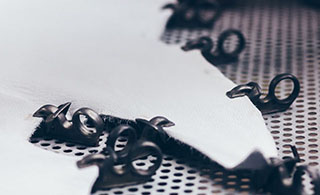 Old machines stand side by side with the latest tools to implement a process that has remained the same for centuries.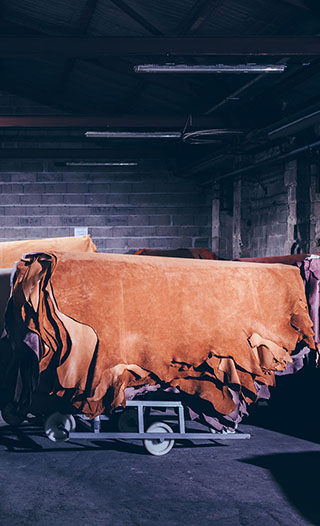 The Tannery is spread over 5,000 m2 (55,000 sq. ft.), divided into production workshops. Since the leather transformation process has been the same for centuries, the machines used are identical in the tasks they perform. However, they now meet modern criteria of reliability, production consistency, safety and optimized energy and water management.
A traditional process
Manufacturing stages
A keen eye for detail that guarantees perfectly controlled manufacturing.
Sorting workshop: selection
Each hide is carefully inspected to meet the client's specifications - to enhance, or on the contrary, to eliminate the material's unusual features. This is the stage when batches are determined according to the specific characteristics of the final item such as color and softness.

Wet workshop: dyeing plant
The skins are given a full dip-dye treatment in drums to be mass dyed and fat liquored. During this stage, the temperature, water quantity, dyeing products and rotation speed are monitored foroptimum control of the finished product. This phase determines the leather's softness, silky appearance and color.

Currying workshop: drying and softening
This stage consists of drying and softening the leather to ensure high resistance to wear and tear. Handled flat, the skins are then prepared for the finishing process. The velvety finish of nubuck, obtained by buffing the top grain, is achieved in this workshop.

Finishing workshop: hand-finishing ennobling
This last stage gives the leather its final appearance. Once again handled flat, the skins are polished by hand to highlight their contrasting grain. The leather can be glazed or treated to produce a matte finish. It is treated according to its final use.